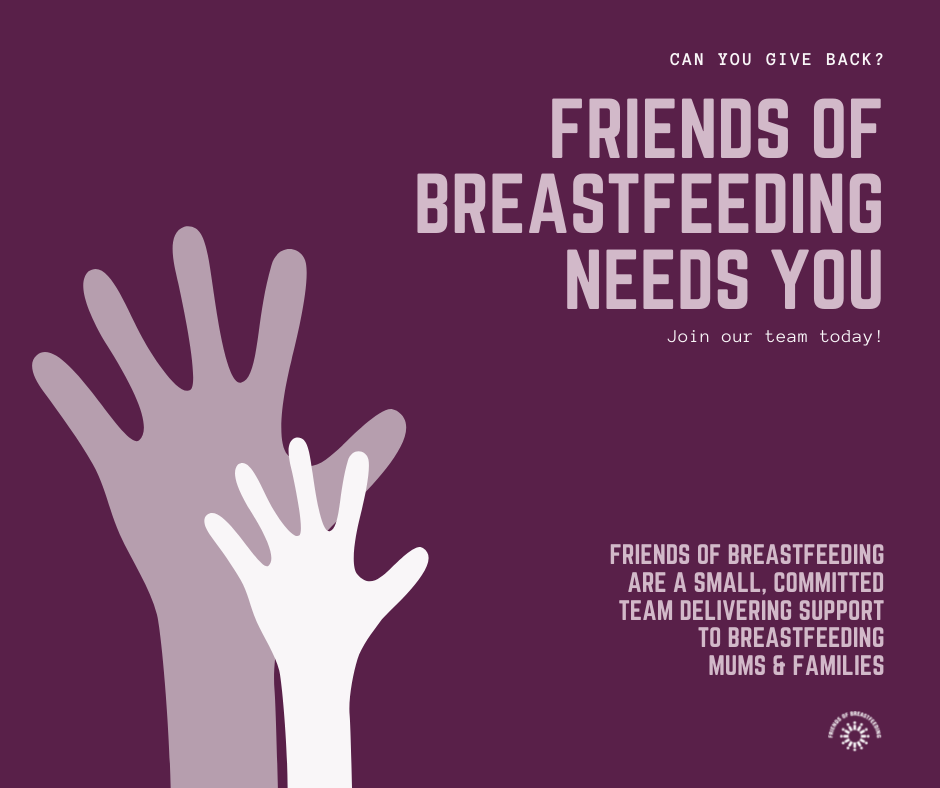 Friends of Breastfeeding is seeking a Company Secretary to join our Board of Directors/Trustees and National Committee. This role will be a Board Director and Trustee of the charity. 
FoBF is a completely voluntary run registered charity, providing peer breastfeeding support all over Ireland. We are a small but committed team and take great satisfaction in positively impacting the development, health, learning and wellbeing of Irish children, as well as maternal health and wellbeing.
The Role:
Friends of Breastfeeding are seeking individuals with Company Secretary training or experience to provide us with comprehensive legal, governance, compliance and administrative support and guidance. If you have experience and training in this area we are eager to hear from you.
The charity is in the process of reviewing its legal structure, providing an exciting opportunity to be involved in that process and in mapping out new governance structures.
Depending on skills your responsibilities may include the following:
Ensuring that the charity is compliant with all relevant statutory and regulatory requirements, including ensuring that the charity is compliant with all relevant voluntary, statutory, and other regulatory requirements;
Ensuring the charity is in compliance with the Charities Governance Compliance Code and that the charity's Governance Record Compliance Form is maintained and kept up to date;
Ensuring that the charity's statutory registers are kept up to date;
Handle all necessary filings with the Companies Registration Office and Charities Regulatory Authority; and
Administrative duties including preparing and circulating board packs for board meetings and minuting board meetings and their circulation.
The Commitment:
As FoBF is run entirely by volunteers and does not have a CEO, the members of the Board of Directors/Trustees are also members of the National Committee and take an active role in overseeing the day-to-day activities of the charity.
Board meetings are held quarterly. The Executive Committee holds a weekly management meeting at which regular attendance is desirable. All meetings are held remotely.
The role will require approximately 10-15 hours per month. All work can be undertaken remotely.
Our commitment to you is that we will invest in your training and development, provide a broad range of exciting experiences and mentorship from our highly qualified and experienced board.
Required Skills:
The successful candidate will be knowledgeable in the areas of corporate governance and compliance. Qualification as a company secretary, accountant, solicitor or barrister (or being currently in training for these qualifications) is desirable.
Charity trustees may not profit from carrying out their duties as a charity trustee. Board members do not receive remuneration for Board membership. We can provide some support for training courses and skills development and we have a small budget for that purpose.
We work together as a close team of volunteers and as a member of a small volunteer run charity you will need to be supportive and collegiate, with a get things done attitude. You will also have an eye for detail, a thirst for learning, the ability to multitask, be accountable and deliver on time.
The individual assuming the role must not be disqualified from acting as a charity trustee.
Breastfeeding: It is not necessary for applicants to have personal knowledge or experience of breastfeeding,, however, a willingness to learn about the benefits of breastfeeding and support the important work of the charity is critical.
If you are interested in this role, please submit your CV and cover letter outlining why you think you would be suitable for the role, to enquiries@friendsofbreastfeeding.ie