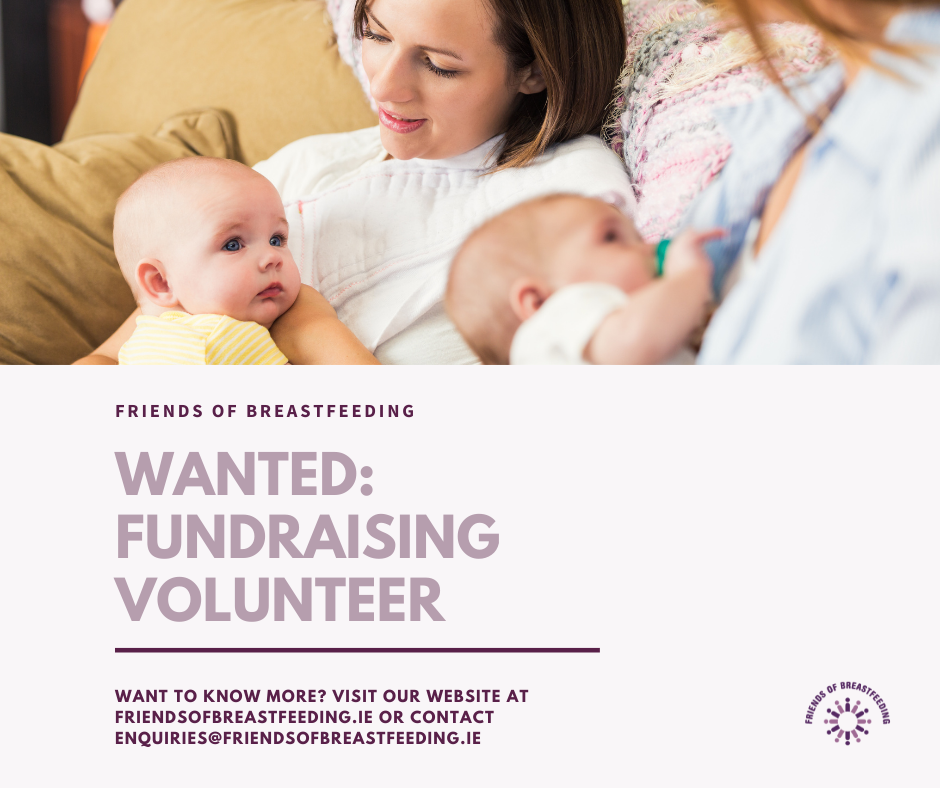 Friends of Breastfeeding is seeking an experienced Fundraising Officer to join our National Committee. This role will be a Trustee of the charity and National Committee member. 
FoBF is a completely voluntary run registered charity, providing peer breastfeeding support all over Ireland. We are a small but committed team and take great satisfaction in positively impacting the development, health, learning and wellbeing of Irish children, as well as maternal health and wellbeing.
The Role:
Friends of Breastfeeding is seeking an individual with training or experience experience of fundraising in the charitable sector. Previous voluntary experience serving on a Board or Committee is desirable.
This is an exciting opportunity to join our organisation at a pivotal time and to build a new fundraising strategy from the ground up. If you want to play a key role in improving the health of Irish women and children we are eager to hear from you.
Depending on skills and experience your responsibilities will include the following:
To create and deliver a new fundraising strategy aligned to organisational strategy and plans
To maintain existing income streams and develop/establish new fundraising opportunities and revenue streams ;
To build and manage donor, supporter and partner relationships with the objective of increasing sources of sustainable funding for the charity;
Explore opportunities with new and emerging fundraising technologies;
Regularly inspecting the charity's finances together with the Treasurer to advise the Board of Directors/Trustees and National Committee;
Lead on developing and delivering fundraising campaigns and opportunities;
Assist in grant writing and with the maintenance of records of grant and philanthropy applications;
Work with the National Committee to progress and maintain compliance with the Charities Governance Code, and take responsibility for the aspects of that Code relating to fundraising.
The Commitment:
As FoBF is run entirely by volunteers and does not have a CEO, the members of the Board of Directors/Trustees are also members of the National Committee and take an active role in overseeing the day-to-day activities of the charity.
Board meetings are held quarterly. The Executive Committee holds a weekly management meeting at which regular attendance is desirable. All meetings are held remotely.
The role will require approximately 10-15 hours per month. The commitment may fluctuate depending on active campaigns. All work can be undertaken remotely.
Our commitment to you is that we will invest in your training and development, provide a broad range of exciting experiences and provide mentorship from our highly qualified and experienced board.
Required Skills:
The successful candidate will be committed to supporting the growth and good governance of the organisation, have relevant fundraising experience, professional or voluntary and a successful track record of fundraising in the non profit sector. We particularly welcome applications from people with business development, communications and marketing expertise.
Charity trustees may not profit from carrying out their duties as a charity trustee. Board members do not receive remuneration for Board membership. We can provide some support for training courses and skills development and we have a small budget for that purpose.
We work together as a close team of volunteers and as a member of a small volunteer run charity you will need to be supportive and collegiate, with a get things done attitude. You will also have an eye for detail, a thirst for learning, the ability to multitask, be accountable and deliver on time.
The individual assuming the role must not be disqualified from acting as a charity trustee.
Breastfeeding awareness: It is not necessary for applicants to have personal knowledge or experience of breastfeeding,however, a willingness to learn about the benefits of breastfeeding and support the important work of the charity is critical.
If you are interested in this role, please submit your CV and cover letter outlining why you think you would be suitable for the role, to enquiries@friendsofbreastfeeding.ie