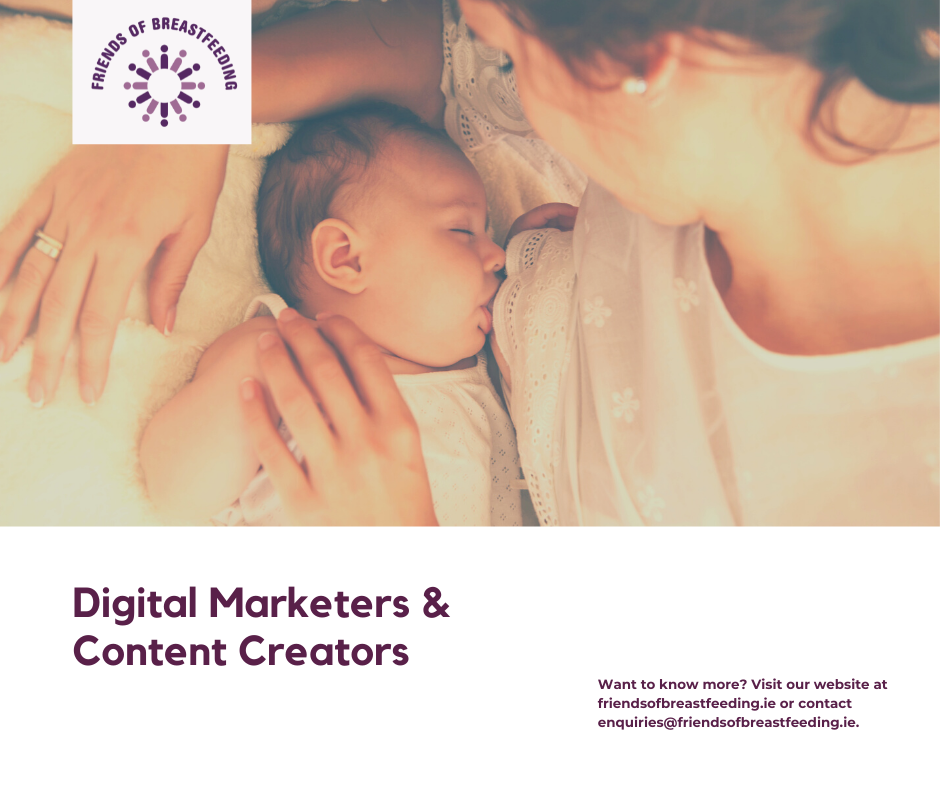 Friends of Breastfeeding is seeking to convene a subcommittee of digital marketers and  content creators, led by our Communications and Marketing Trustee, to work on a number of exciting campaigns/projects we have under development and contribute to our day to day activities which increase Friends of Breastfeeding visibility, engage our audiences and support the charity's long-term strategy.
FoBF is a completely voluntary registered charity, providing peer breastfeeding support all over Ireland. We are a small but committed team with big plans for the future of the charity. Since the Covid-19 pandemic we have shifted much of our service provision to online and social media. We are looking to consolidate and improve our online offerings in tandem with the return to providing in person peer support. This is an exciting opportunity to work as part of a team in developing our 'third service stream' of digital information and support and lead special campaigns, such as fundraising and awards campaigns.
The Role:
Friends of Breastfeeding is seeking individuals with digital marketing and/or content creation expertise. If you have experience or training in this area and want to play a key role in developing the look and feel of our digital activity, we are eager to hear from you.
Depending on skills your responsibilities may include the following:
Creating, delivering, evaluating and optimising digital marketing strategies aligned to organisational strategy
Manage and create high quality content for the charity's 'all ways on' digital support channels including, website, social media and email marketing
Create, deliver and evaluate high quality digital marketing and content for the organisation's campaigns (e.g. for the Annual Friends of Breastfeeding Awards; for National Breastfeeding Week; launches; or for fundraising campaigns such as #brelfie2021);
Monitor and measure performance of all activity, develop appropriate evaluations and implement key findings
To work with the Communications Trustee and the other members of the Marketing and Communications subcommittee on the above.
The Commitment:
FoBF is run entirely by volunteers. The members of the Board of Directors/Trustees are also members of the National Committee and take an active role in overseeing the day-to-day activities of the charity. The Marketing and Communications subcommittee members will report to our Communications Trustee who is a member of the National Committee. This is not a trustee position and attendance at board meetings will not be required.
Regular communication with the Communications Trustee and with other members of the subcommittee will be expected. Attendance at subcommittee meetings may be required. It is envisaged that the commitment will be 10-15 hours per month. The commitment will fluctuate depending on active campaigns and you can vary your involvement depending on your personal availability. All work can be undertaken remotely.
Required Skills:
The successful candidate will have previous relevant digital marketing and/or content creation experience or training. You will have an eye for detail, a thirst for learning, the ability to multitask, be accountable and deliver on time. As a member of a small volunteer run charity you will also be supportive and collegiate, with a get things done attitude.
We can't provide any remuneration for these positions but we can provide some support for training courses and skills development and we have a small budget for that purpose. We work together as a close team of volunteers and take great satisfaction in making a real difference in the lives of women and babies all over Ireland.
Breastfeeding awareness: It is not necessary for applicants to have personal knowledge or experience of breastfeeding, however, a willingness to learn about the benefits of breastfeeding and support the important work of the charity is critical.
If you are interested in this role, please submit your CV and cover letter outlining why you think you would be suitable for the role, to enquiries@friendsofbreastfeeding.ie